Happy Valentine's Day!
Here I am again, super late in getting Crosbi's monthly update posted. So she'll be three months old a week from today, that's alright. Better late than never! I can't be too hard on myself these days. I only have a couple more weeks before I return to work, so I'm spending each second that Crosbi is awake cuddling and playing. Yes, I'm returning to work. Just months ago I would have said that I would have no problem going back. I've always been pretty career/goal driven. But a sweet little girl changed all of that. Now I'm begging time to stop. I don't want to be away from Crosbi for a second. I am going to be one terribly sad mommy soon. Praise God it's just part-time for awhile. I'm sure I'll be writing more on that in the weeks to come.
For now, I'll celebrate this special Valentine's Day with my 2 month old baby girl. She's getting so big!
Weighing 13.1 pounds and 24 inches long (at 8 weeks), my little stinker is growing by the minute!
She has just started to laugh out loud and it melts my heart. I will do any dance or silly voice to get her to laugh. I have no shame. Her giggles are the best sound in the world.
She's getting better at holding her head up and will sit in her Bumbo seat for a few minutes.
She likes to see what is going on around her. No holding her like a baby, she needs to be able to look around.
Still not much of a crier (thank goodness!), she is making her voice heard when she's angry now. She's not afraid to yell. It cracks me up.
Crosbi sleeps 9+ hours straight each night. To my mommy readers out there, please don't hate me! I have to thank the Miracle Blanket for sure, but I'm also really blessed to just have a good sleeper.
She loves other babies (including the baby she sees in the mirror) and small kiddos. I think she's going to be pretty social!
My sweet girl is growing so fast.
Wishing you all a Valentine's Day filled with lots of love (thanks Shutterfly!)
*Shutterfly gives you a $10 coupon when you blog about projects you make on their site. Not a bad deal!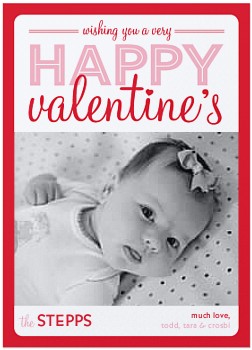 Love Wishes Valentine's Card